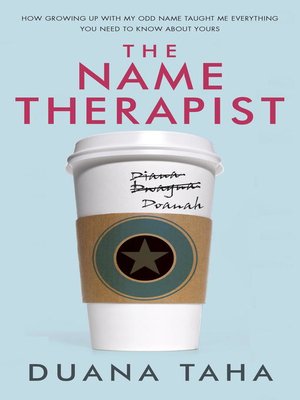 http://www.amazon.com/Name-Therapist-Growing-Taught-Everything/dp/0345815300
The Name Therapist: How Growing Up with My Odd Name Taught Me Everything You Need to Know about Yours
Hardcover
– April 5, 2016
What's a "stripper" name? For that matter, what's a high-class name? How do you tell the difference? Why does everyone call them "baby" names when they follow us through our whole lives? And can your name determine your destiny?
From a television screenwriter and contributor on the LaineyGossip.com blog comes a book about what names really mean, how we use them, and why they matter.

A child of Irish and Egyptian immigrants to Canada, Duana Taha became fascinated by names, not least because hers felt awkward at best and impossible at worst. She believed that names explained not only who you were, but where you came from and who you could be. She became a name nerd, and later a name snob, before settling into the role she was born to play—a Name Therapist, giving straight talk baby-and-grown-up-name advice to just about everyone.
In a romp through North American naming trends, traditions, and pop culture, Duana brings us the hilarious, insightful, and surprising truths about hipster names in Brooklyn and Malibu, and the most "intelligent" names at Harvard University; digs into the stereotypes about culture and class where names are concerned; and heads backstage to find out the stories behind those supposed stripper names. And if you don't know what a Starbucks name is, Duana points out why you obviously never needed one.
The Name Therapist's explorations will help you understand your feelings about your own name, whether it's one you share with millions (hi, Jennifer!), or one you grew up waiting in vain for the Romper Room host to say. Would you, by any other name, still be you?
Review
NATIONAL BESTSELLER
"After forty years,
The Name Therapist
helped me finally figure out why I monogram everything: because growing up I could never find a keychain with my name on it! With her inventively fresh observations, impressive wit, humour, charm, and sometimes harsh real talk, Duana Taha has totally convinced me that we are more than just our names. But that names are, actually, everything. I love this book." —
Elaine Lui
, author of
Listen to the Squawking Chicken
"So would a rose by any other name smell as sweet? Taha answers with a resounding no!
The Name Therapist
is both erudite and hilarious. It discusses the implications inherent in naming babies and the ways in which we discriminate against certain names. It answers questions you had as a child about all the Jennifers in the schoolyard and then asks, how do we really become who we are? It's a rollicking fun read." —
Heather O'Neill
, author of
The Girl Who Was Saturday Night
and
Daydreams of Angels
"Marked at birth with a difficult-to-pronounce, gender-indeterminate, ethnically confusing name, I've navigated the world of Jennifers and Michaels looking for someone who gets it. Well, Duana Taha does. She writes with charm, wit, and warmth about something so everyday but also so essential—names—those endlessly complex combinations of letters that help us make sense of who we are and where we come from. This book is basically the Magna Carta for people with weird names." —
Elan Mastai
, screenwriter of
The F Word
"
The Name Therapist
makes it clear from the outset that this is a qualitative study, yet the interviews and anecdotes, from Ronit and Shelica to Karen and many Jennifers, left this skeptic reevaluating her entire life as a Jessica, then a Jessie and finally a Jess; monikers all chosen for me by others, which have unconsciously helped shape my identity.
I've seen the light. But the most illuminating story is that of Duana's. Her experiences, struggles and realizations regarding her own name are effortlessly weaved throughout forming a complete narrative that's both entertaining and heady. And they are beautiful, particularly one from Grade 4 where her path as a fine writer may have been determined, thanks to her unusual name." —
Jessica Allen
, digital correspondent for
The Social
and
Metro
columnist
"If you've struggled with naming a baby, a character, a cat or a condition, this book is an essential companion and a total delight. Duana Taha's managed to write a smart, personal, trivia-stuffed (and kind of profound) treatise on why we pick the names we do, and how we're affected by the ones we're given. If there's a name for when a book takes you completely by surprise with its warm, dishy cleverness, so much so, you have to read it in one sitting, that's what happened to me." —
Lisa Gabriele
is the author of
Tempting Faith DiNapoli
and
The Almost Archer Sisters
, and the
S.E.C.R.E.T.
trilogy under L. Marie Adeline, her nana's name
"I had no idea I needed therapy until I read this book. Wonderfully informative, utterly charming, and laugh out loud funny, I would prescribe
The Name Therapist
to literally anyone with a name. Which is everyone. That's how much I enjoyed it." —
Dan Levy
, co-creator of
Schitt's Creek
"I've been fascinated by the fine art of nomenclature since I was a wee girl. I love Duana Taha's unique, compelling take on why we choose certain names. It's so much fun and would be a great gift for anyone, but especially parents-to-be." —
Sara Benincasa
, comedian and author of
DC Trip
"The magic of
The Name Therapis
t lies in Duana's genuine curiosity and love for the psychology of naming. Her unique experience and background elevate the material from baby name encyclopedia to a deeply personal meditation on the phrase 'what's in a name?' Most impressive is her ability to romanticize even the most unlikely of monikers (Archibald, I'm looking at you!). There's no judgment or condescension, just an infectious sense of wonderment!" —
Lauren Felice Collins
, actor in
Degrassi: The Next Generation
, former sufferer of Middle-Name Pain
"[
The Name Therapist]
is loaded with helpful advice. . . . Taha, a screenwriter and contributor to the website
LaineyGossip
, clearly knows of what she writes. . . . [B]lending personal autobiography with a measure of research and an abundance of anecdotal observation, [
The Name Therapist
] covers its topic from every conceivable angle. . . . Taha's enthusiasm for her subject is palpable and even, at times, infectious." —
The Globe and Mail
About the Author
DUANA TAHA was an odd child with a large vocabulary and a small sense of when to stop talking. She wasn't allowed to watch much television, so she gorged on TV when her parents weren't looking and proceeded to become thoroughly and happily addicted to pop culture and social psychology, obsessing over the strange ways we humans live our lives. These days, Taha obsesses over fictional humans as a screenwriter on hit shows including Degrassi: The Next Generation, Lost Girl, and the upcoming Lost & Found Music Studios. She is a popular contributor to LaineyGossip.com, where she discusses television and feminism, and in her popular baby name column "Duana Names" is valiantly trying to bring back the name Bruno. Her opinions on name trends have appeared in The New York Observer, The Globe and Mail, and the Daily Mail. She has never met another Duana. The author lives in Toronto, Ontario.