https://www.academia.edu/19956176/Un_decennio_di_onomastica_letteraria_in_Italia_2006-2015_in_Rivista_Italiana_di_Onomastica_XXII_2016_1_pp._155-162
in «Rivista Italiana di Onomastica», XXII (2016), 1, pp. 155-162.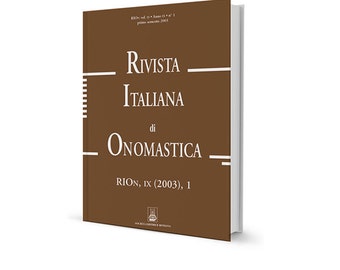 Abstract:
(Ten years of literary onomastics in Italy [2006-2015])
The contribution illustrates structure and criteria of the bibliographic repertoire of the studies of literary onomastics in Italy from 2006 to 2015, updating the analogous bibliographic census edited ten years ago by the author together with Bruno Porcelli. The corpus shows how such studies have had a further important development in Italy and is also an occasion for the author for a quantitative and methodological evaluation of the state of onomastic research in its different branches.
by
Leonardo Terrusi
Habilitation as associate professor in "Italian Literature, Literary Criticism and Comparative Literature" (10/F1), and in "Italian Linguistics and Philology" (10/F3) (ASN 2012).