http://www.onomastikblog.de/neuerscheinungen/neuerscheinungen_onomastik_4/
This list has been made up by
Harald Bichlmeier
from the Saxonian Academy of Sciences in Leipzig. It encompasses new publication from Poland, Macedonia and Slovakia. I have just added my pictures, links and content of journals.
Poland:
Onomastica, Band 57/2013. Kraków 2013, 333 S., 19,00 Euro, ISSN 0078-4648
Follow the below presented link to read some articles online in pdf:
No 57 / 2013
Vincent Blanár (1 XII 1920–27 IX 2012). Odišiel nestor slovenskej jazykovedy a onomas- tiky Prof. Phdr. Vincent Blanár DrSc.
ROZPRAWY I MATERIAŁY
RECENZJE, OMÓWIENIA I POLEMIKI
STAN BADAŃ NAZEWNICZYCH
A. G a ł k o w s k i, R. G l i w a:
Najnowsze osiągnięcia badawcze w zakresie badań nad mikro- i makrotoponimią — podsumowanie xviii Ogólnopolskiej i Między- narodowej Konferencji Onomastycznej
Antroponimia Polski od XVI do końca XVIII wieku, Band 4, l-St., Wybór artykułów hasłowych oraz wykazy nazwisk wraz z chronologią i geografią. Kraków 2013, 32,00 Euro, ISBN 978-83-64007-02


Makedonia:
Zeqirija, Ibrahimi: Toponimia shqiptare ne Maqedoni - v.5. (Toponimia shqiptare ne Maqedoni). Shkup, Itsks, 2014, 204 S., 21,80 Euro, ISBN 978-608-4653-14-1.


Slovakia:
Majtán, Milan: Naše priezviská. Bratislava 2014, 195 S., 15 Euro, ISBN 978-80-224-1357-2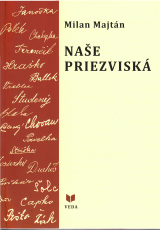 Majtán, Milan: Naše priezviská. Bratislava: Veda 2014. 196 s. ISBN 978-80-224-1357-2
Na Slovensku doteraz chýba monografické alebo slovníkové spracovanie priezvisk. Tento stav sa usiluje zmierniť popularizačná monografia M. Majtána Naše priezviská. V úvode sa nachádza stručný prehľad vzniku a vývinu priezvisk od prímen a prídomkov až po dnešné dedičné priezviská, jazyková a gramatická charakteristika i prechyľovanie priezvisk. Autor venuje pozornosť aj rozšíreniu a frekvencii niektorých priezvisk na Slovensku. V druhej časti publikácie sa podrobnejšie uvádzajú najčastejšie priezviská, ktoré sa utvorili z rodných (krstných) mien, z názvov remesiel a zamestnaní, z pomenovaní rodinných a príbuzenských vzťahov, priezviská podľa spoločenského zaradenia, pôvodu a vlastností a charakteristika frekventovaných i menej častých prípon, pomocou ktorých sa slovenské priezviská tvorili. V samostatnej kapitole autor voľnejšie vysvetľuje pôvod niektorých na prvý pohľad možno nepriezračných priezvisk, spôsob výskumu, pomocou ktorého dospel k uvedeným zisteniam, a rôzne zaujímavosti, s ktorými s stretol počas štúdia a skúmania vývinu slovenských priezvisk. Formou slovníka sú spracované priezviská z obce Turzovka. V závere knihy M. Majtán na niekoľkých príkladoch ukazuje, ako sa prostredníctvom genealogického výskumu, štúdiom archívnych materiálov a matrík možno dopracovať k pôvodu daného priezviska.