January 7-10th, 2016 in Washington, D.C.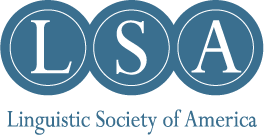 In conjunction with the
Linguistic Society of America
, the ANS meets once a year for paper presentations, panel discussions, and general comradery over food and drinks.
Call for papers open until July 1, 2015
Registration information available in October 2015
Call for Papers
–
Deadline July 1, 2015.
Papers in any area of onomastic research are welcome. Proposals should include a précis of no more than 500 words, as well as a 100-word abstract for publication in the meeting programs. Presenters who may need additional time to secure international payments and travel visas to the United States are urged to submit their proposal as soon as possible.
Please send proposals by e-mail attachment using the
ANS 2016 Author Information Sheet
to Ms. Carol Lombard at ans.abstracts[at]gmail.com and include "ANS Proposal" in the subject line. All proposals will be subject to blind review. Official notification of proposal acceptances will be sent on or before August 31, 2015. All authors whose papers have been accepted must be current
members of the ANS
and need to register with both the ANS and the
Linguistic Society of America
. Please feel free to contact Ms. Lombard if you have questions.